In the Beginning Was Design
World-Architects
20. April 2018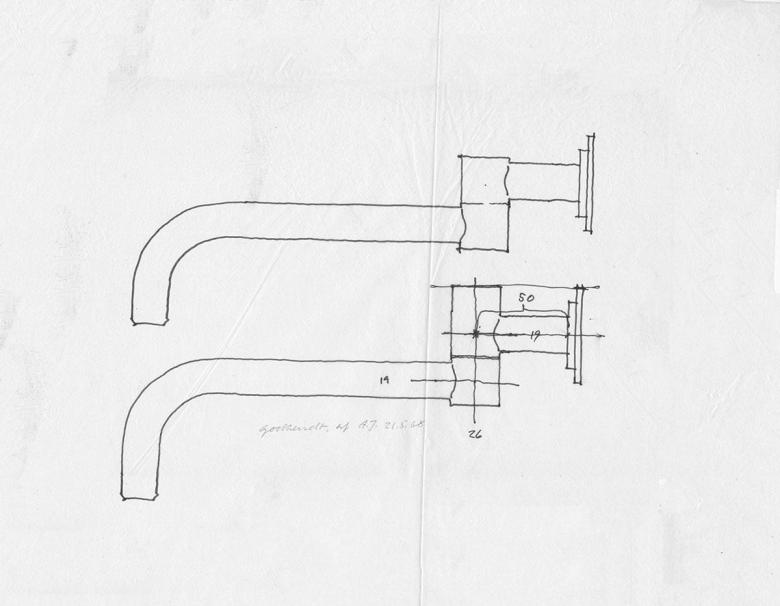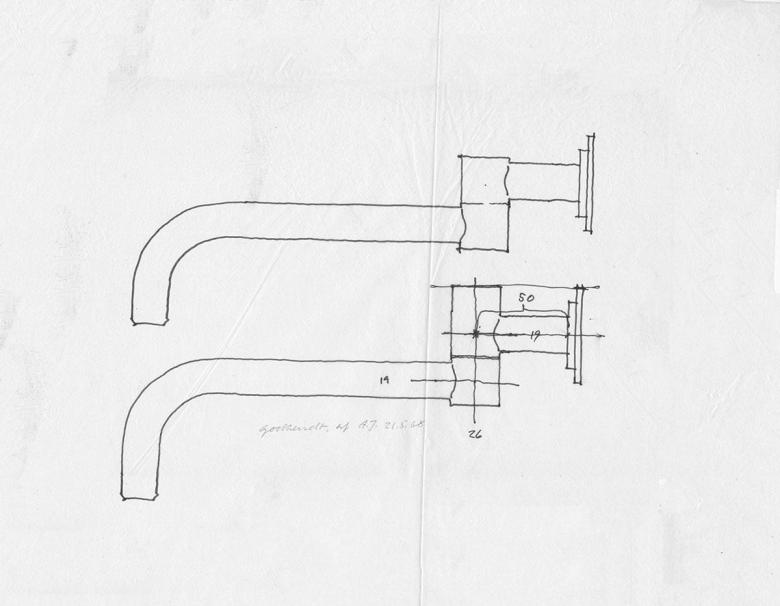 Sketch by Arne Jakobsen (Photo: Vola)
Danish fittings manufacturer Vola celebrates its 50th anniversary this year. At the IMM Cologne trade fair in January, World-Architects spoke with Vola about company's history and values.
In 1968, Vola founder Verner Overgaard invited architect and designer Arne Jacobsen to work with him on a completely new design object. Both were enthusiastic about craftsmanship, modernity, the importance of proportions, and the desire to design things down to the last detail. Vola is still dedicated to these values today; it is not about novelties at all costs but about the continuation of a strong design tradition. At IMM Cologne, we had the opportunity to talk to Birthe Tofting, Director of International Sales, Marketing & HR at Vola.

World-Architects: Mrs. Tofting, a lot of people know Vola. We are interested in how you joined Vola and when that happened.
Birthe Tofting: I've been with Vola for 33 years. That's my whole adult life. I came to Vola as a young woman directly after finishing university and was hired by Verner Overgaard. It was very interesting to work with him because he and Arne Jacobsen had founded Vola.

Are you also an architect or designer?
No, I studied languages and commerce.

And how did you get your job? Was it advertised, or did you think: "This is a great company that I would like to work for"? Or was it just a coincidence?
Well, maybe it was a coincidence. As a young woman, I just wanted to travel. In Vola's export department, there were only Paul Overgaard and myself. I figured I could see the world on this job. We have built up the whole international division.

How did you do that?
Dedicated architects have acted as agents in many different countries, and as they advanced in years we took over the agency ourselves. In the process, the brand and the values behind it had always to be communicated anew.
Verner Overgaard (Photo: Vola)
What Vola products do you personally swear by?
KV1, the kitchen faucet, is one of my favorite products. You can clearly see the golden section in it, and I think it is what makes the product aesthetic. I have this fitting in brushed stainless steel, because the material corresponds to Vola's values. When Arne Jacobsen was to design the fittings for the Danish National Bank in 1961, he wanted to create a very industrial look. He would have liked to have a surface similar in concrete, but we were not able to do that at the time. The fittings were dyed in light gray. If we had had the possibility of brushed stainless steel back then, he would have certainly loved it.

How many people are involved in design at Vola?
There's a product committee. From the very beginning, design has been of utmost importance to the company. We've had this product committee for decades; it is attended by the Overgaard brothers, myself and the technical management. This is where decisions are made. By the way: 80% of all proposals are rejected.

In the meantime, we have also withdrawn products from the range, because in the early 1980s, everything happened a little too quickly and a large number of products were launched on the market. Link Arkitektur (formerly Aarhus Arkitekterne), which is now responsible for design, has studied the DNA of all Vola products. They measured all geometries and studied the proportions so that we now have a good stock — and know what Vola is and what Vola is not.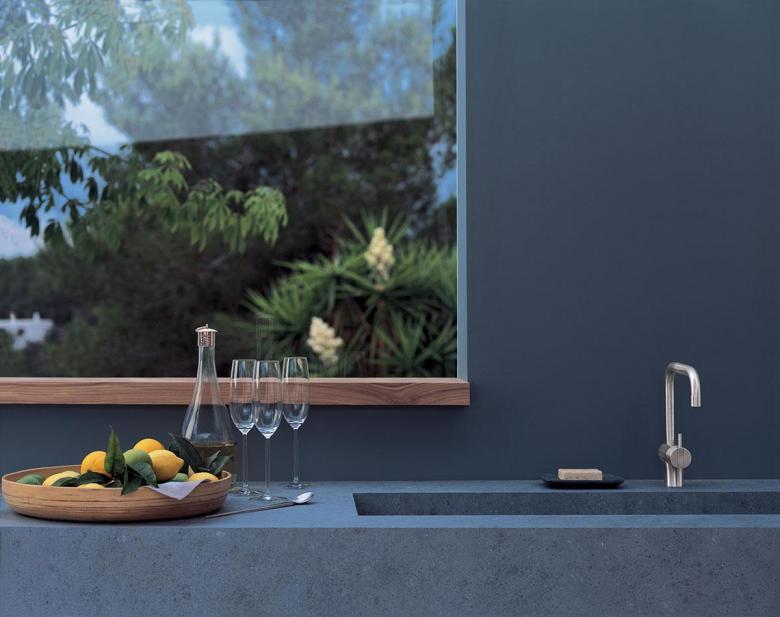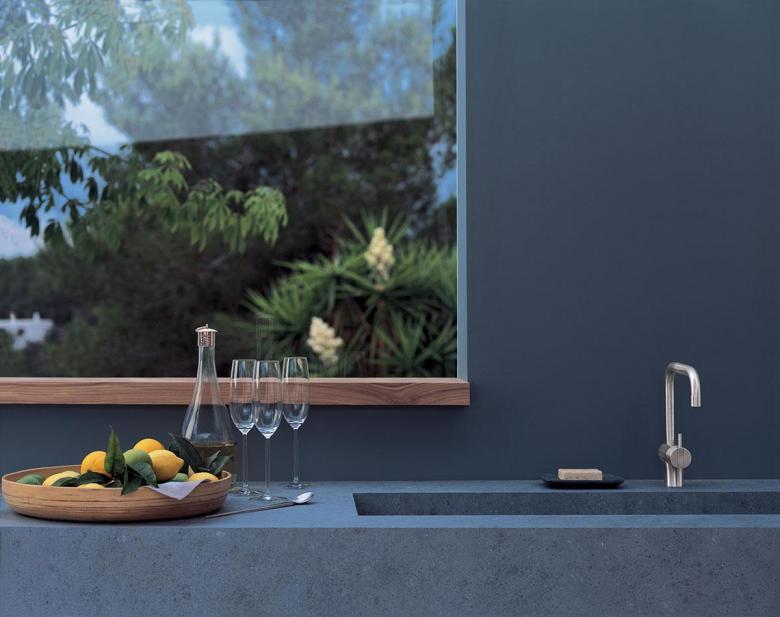 Product image from Vola with KV1 kitchen faucet in brushed stainless steel (Photo: Vola)
What are the distribution channels like?
This varies from country to country. Our goal is to know and work with the 100 best architectural firms in the world. This is what makes us successful. European architects are now building in Asia — and we accompany them.

Are there other strategies to conquer "foreign" markets?
Most of our sales are made in Europe, and we are very happy about that. At the moment, we are investing in Asia and Australia; this year we will open a showroom in Melbourne. We already have one in Shanghai.

Vola design is undisputedly unique. Have you ever considered designing something different? Like clothes or cars?
No, not at all.

Furniture?
No, we're very focused. We only make fittings and accessories for the bathroom or kitchen.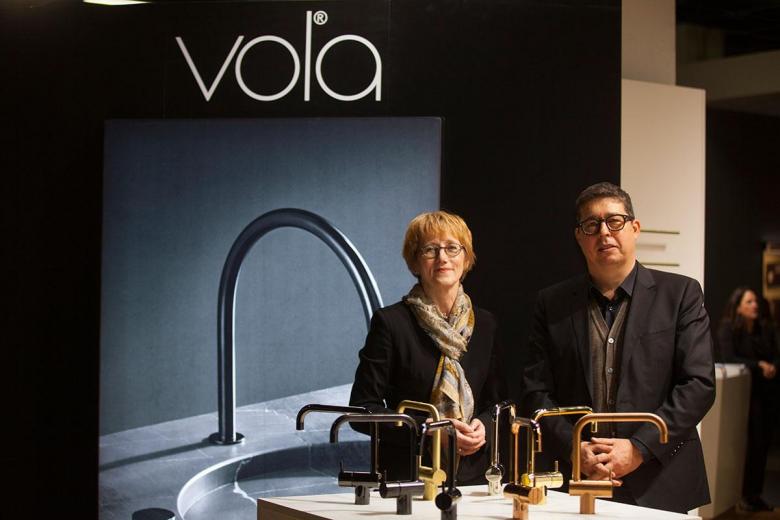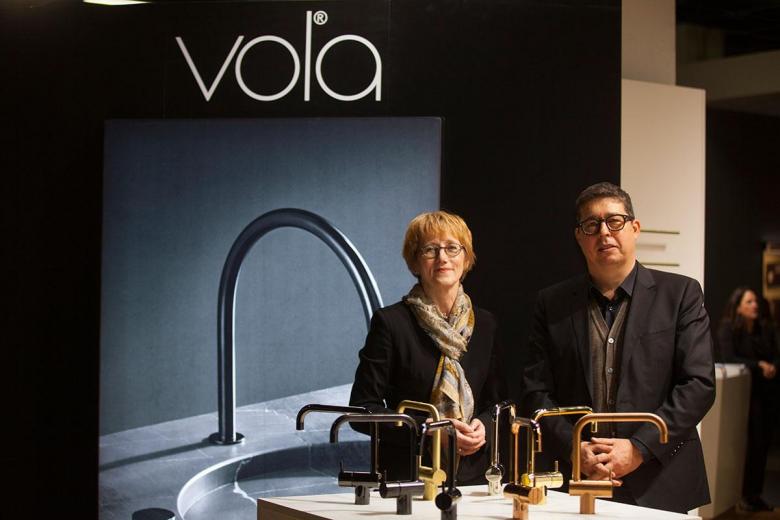 Birthe Tofting from Vola and Renato Turri from World-Architects at IMM Cologne (Photo: Vola)
Finally, an important, though somewhat overused question: What is Vola's philosophy in terms of sustainability?
Vola's philosophy is that we manufacture high-quality products whose design is timeless, lasting for generations. You don't throw away a Vola fitting. A cheap fitting that has to be thrown out after a few years, however, does not conserve resources. Water regulators are now a standard feature in all fittings, so that the consumers or the clients can decide for themselves whether and how much water they want to save.

I believe it is important to invest in quality products. It is not possible for the world as such to produce on a massive scale and then discard the product. We should all invest in less, which is of good quality instead.
---
Related articles
Featured Project
Other articles in this category