US Building of the Week
Hotel Marcel
Becker + Becker
11. octubre 2021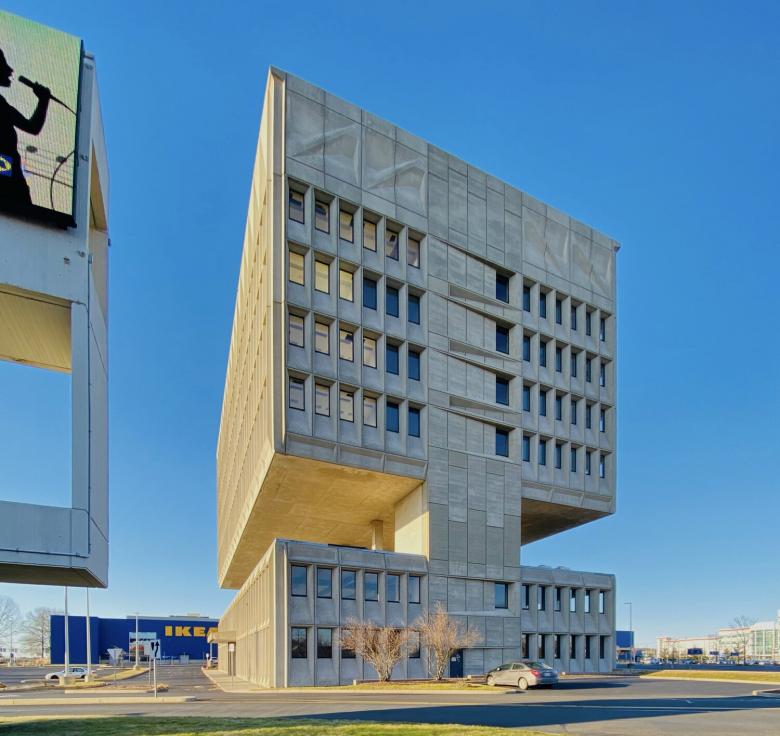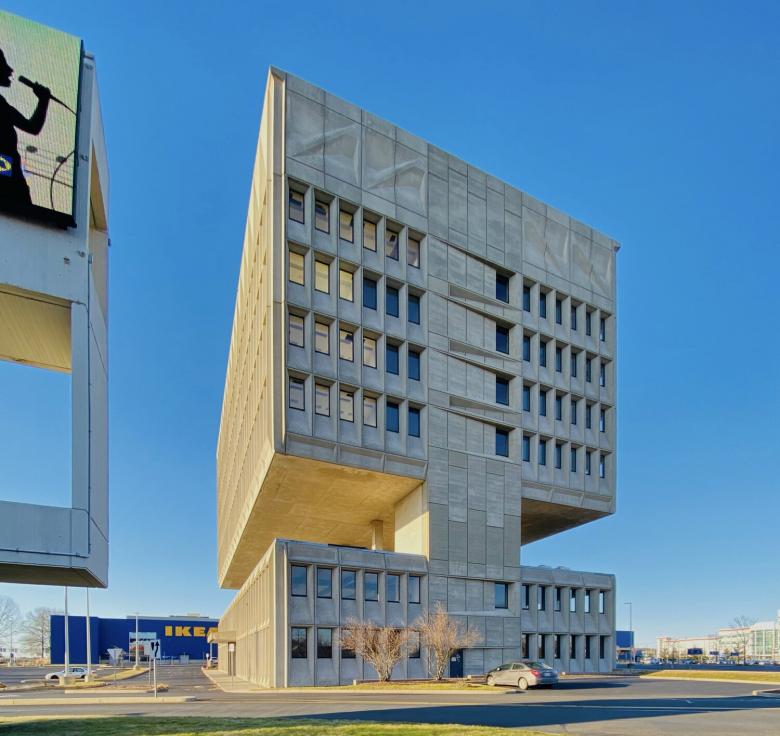 Photo: Bruce Redman Becker, FAIA
On July 28, 2004, IKEA opened a new store in New Haven, Connecticut, a store that controversially cut up Marcel Breuer's 50-year-old Pirelli Building. A decade and a half later, architect and developer Bruce Redman Becker bought the empty office building, with plans to convert it into a hotel. Becker answered some questions about the adaptive-reuse project set to open next year as the Hilton-branded Hotel Marcel.
Project
: Hotel Marcel, 2022
Location
: 500 Sargent Drive, New Haven, Connecticut, USA
Client
: Becker + Becker
Architect
: Becker + Becker
Design Principal: Bruce Redman Becker, FAIA
Project Architect: Violette de La Selle
Project Manager: Vivie Lee
Project Team: Alice Tai, Michelle Lauterwasser
Associate Architect
: Steven Winter Associates
Structural Engineer
: GNCB
MEP/FP Engineer
: LN Consulting
Landscape Architect
: Blades Goven
Lighting Designer
: Focus Lighting
Interior Designer
: Dutch East Design
Construction Manager
: Consigli Construction
Interior Demolition and Abatement
: Babbidge Construction
Site Area
: 1.8 acres
Building Area
: 110,000 sf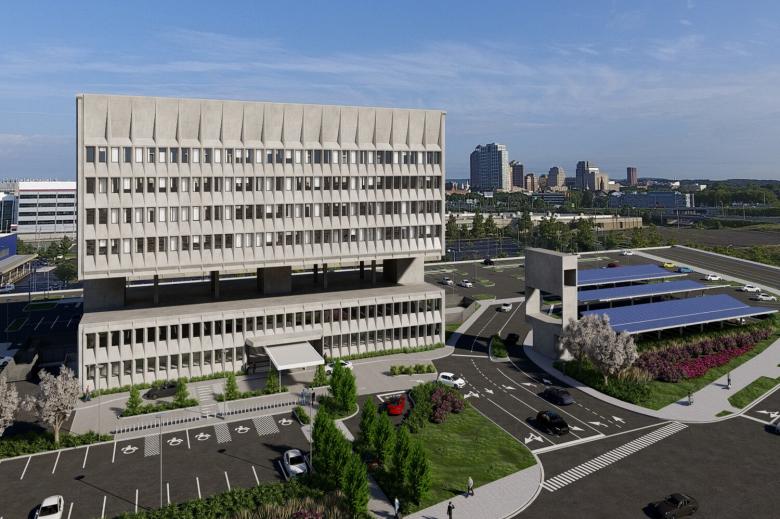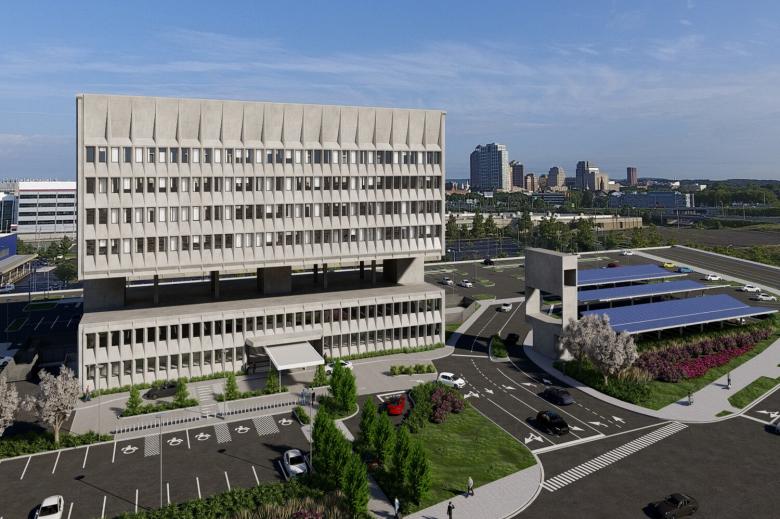 Rendering from the east. (Visualization: Becker + Becker)
What were the circumstances of receiving the commission for this project?
The project was initiated by Becker + Becker as an integrated architecture, planning and development firm.
Please provide an overview of the project.
The project is the adaptive reuse of the mid-century-modern former Armstrong Rubber Company Building, designed by Marcel Breuer in 1969, into a new, 165-room boutique hotel and conference center that will be the first net zero-energy hotel in the United States.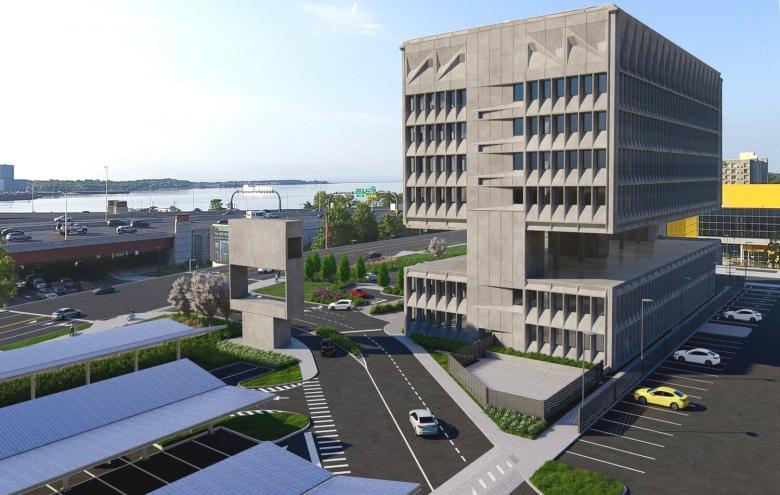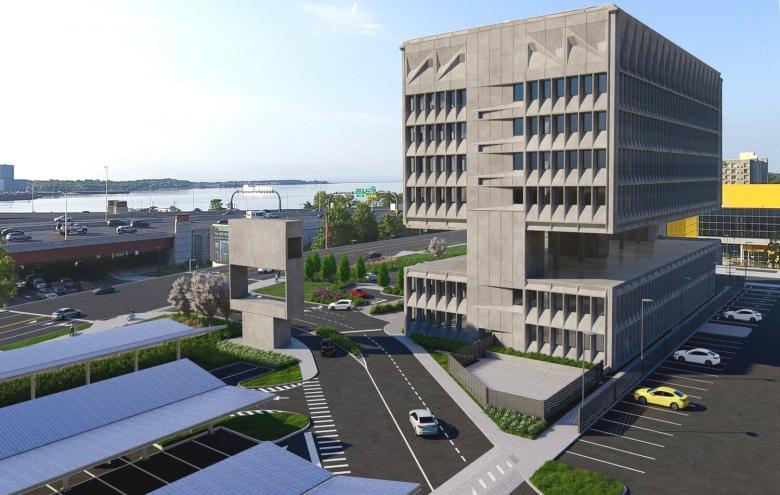 Rendering from the north. (Visualization: Becker + Becker)
What are the main ideas and inspirations influencing the design of the project?
Historic Preservation of an iconic brutalist building; new interiors inspired by Bauhaus principles; an emphasis on sustainable and Passive House design; and using no fossil fuels to create a net zero-energy hotel.
How does the design respond to the unique qualities of the existing building?
The adaptive reuse design was guided by the existing building's five-foot module as an organizing element, and existing elements such as light fixtures and door frames are recycled and reused. The inherent passive solar character of deep-set windows is developed as part of a fully certified Passive House design.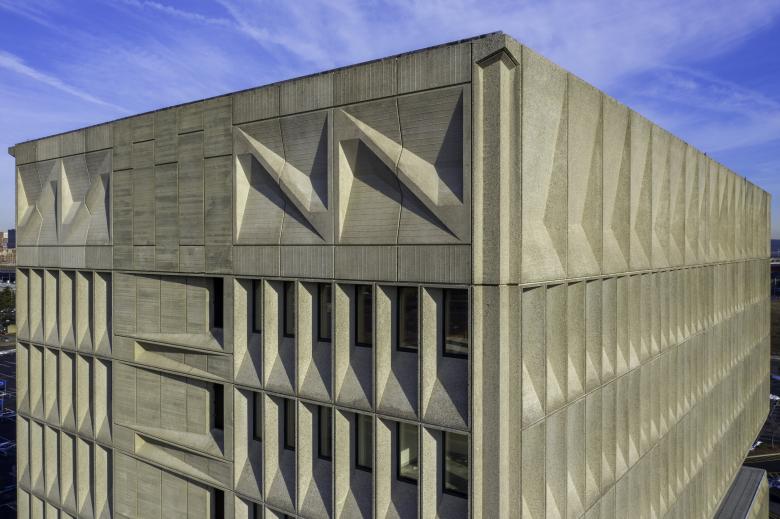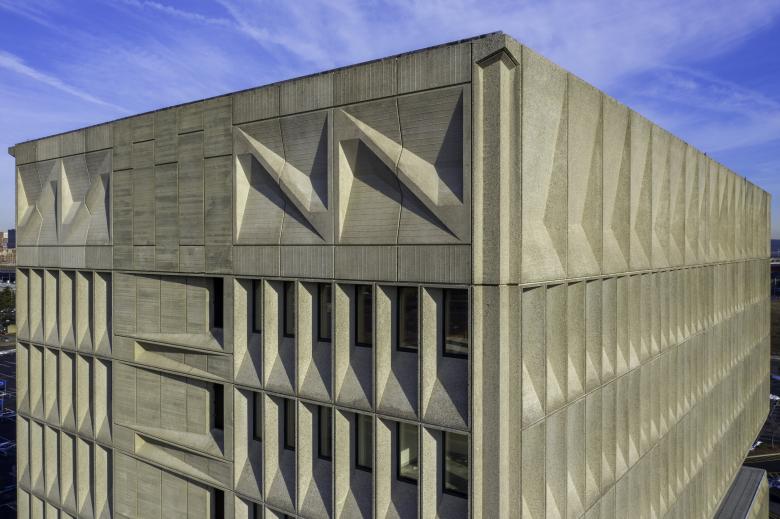 Photo: Becker + Becker
How did the project change between the initial design stage and its completion?
A one-megawatt-hour battery was added so that the building can remain in operation as an off-grid mode with true renewable micro-grid capability. Design features were refined and added to meet Hilton brand standards and to enhance sustainability, with kitchen and laundry having all electric appliances and the elimination of a natural gas connection to the building.
Was the project influenced by any trends in energy-conservation, construction, or design?
The building will meet LEED Platinum, Passive House, net zero-energy certification standards.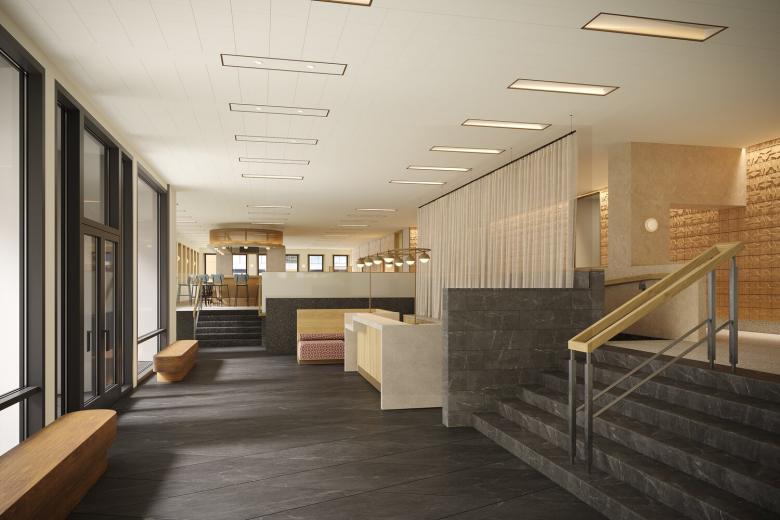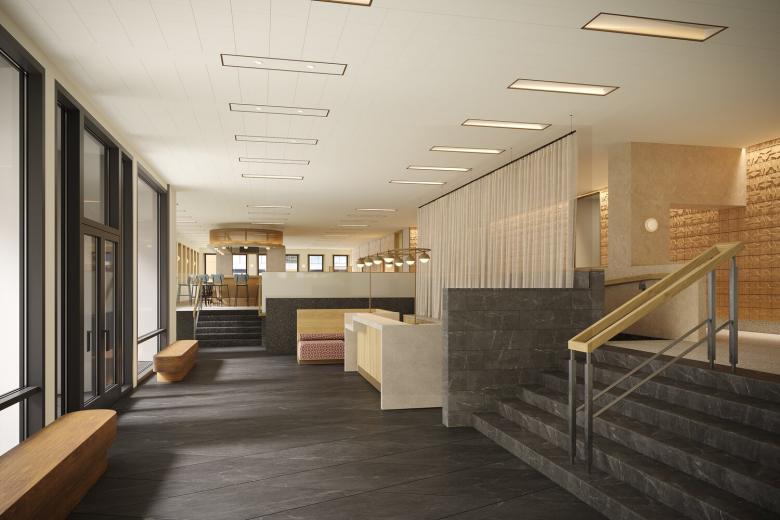 Rendering of reception. (Visualization: Dutch East Design)
What products or materials have contributed to the success of the completed project?
Locally-sourced millwork and case goods, high-performance solar panels, and Power over Ethernet (POE) LED lighting systems throughout.
Important Manufacturers / Products:
Casegoods – The New Traditionalists
POE Lighting Design and Installation – Sinclair Digital
Windows - Klar
Solar Panels - SunPower
Email interview conducted by John Hill.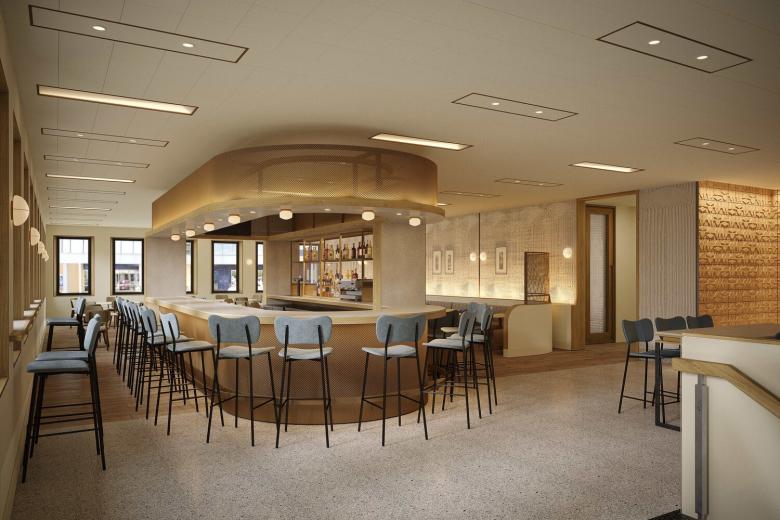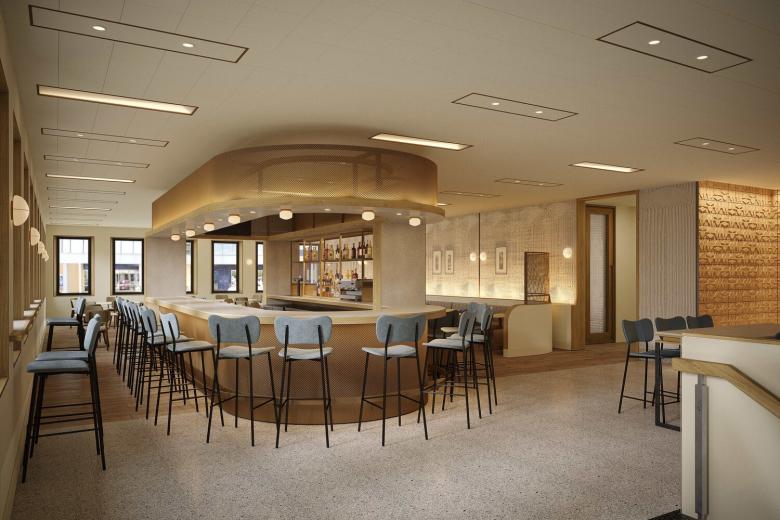 Rendering of bar/dining. (Visualization: Dutch East Design)
Otros artículos de esta categoría